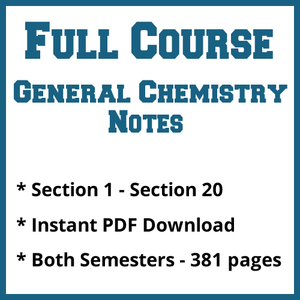 Full Course General Chemistry Notes
Regular price
$5.32
$0.00
Amazing...and thank you so much.
You helped me to love chemistry and understand it so much better.
You are so talented and thank you for sharing your knowledge with the word.
God bless!
Well described and covering details
The notes that I have bought from chemistry notes.com is very much precise and covering good amount of topics in details.
Thanks to the team.
AMAZING, DETAILED NOTES
I am a student who is studying for the MCAT. I lost my chemistry notes from previous classes and I needed to find chemistry notes to study off of. These notes are so detailed and easy to follow and understand. I am baffled by how much these have helped me so far. I feel like the pricing point for a whole semester of notes is very on point and I don't feel like I am being cheated out of my money. I wish they had notes like this for physics and other subjects! I would buy them as well. I am just so thankful I found this company.